April 26th
SCC Minutes
Faculty

Community

Cathy Schino (Principal)

Mindy Cupello

Cindy Bronson (Teacher)

Jason Dyer (Vice Chair)

Isaiah Folau (Teacher)

Caitie Ely (Chair)

 

Alison Holbrook

Bo Jensen

Brooke Mathews

Emily Jensen

Tricia Leininger
Jonathan Hale (Art Teacher) joined to speak to the Art Team Committee piece of the agenda
Members Absent:
Agenda:
Call Meeting to Order

Called to order at 4:04 by A. Holbrook

Review and approve last month's meeting minutes (March 29th)

Motion to approve by. B. Jensen

Seconded by C. Ely

Follow up on Digital Citizenship Plan (survey data)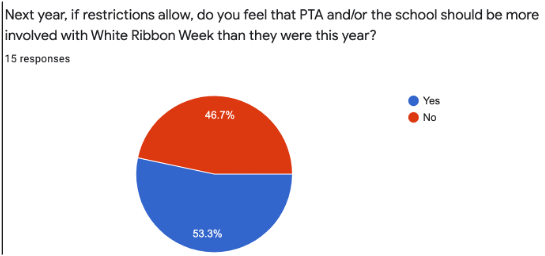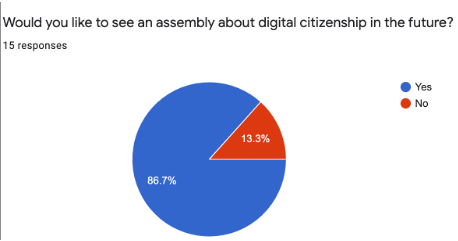 Open Response 1: What topics do you feel would be important to cover during an assembly, and during the week?
If we have an assembly, we should split K-2 and 3-5 so that the content can be more focused on the age.
I liked the themes and lessons, I thought they were well-focused and important topics.  I am unsure of what I would add to the list. 
cyberbullying and online safety 
Students need to understand that their digital footprint can last. Things can come back to haunt them. 
Continue to encourage balance and safety 
safety/passwords/address/phone numbers/names
Balance between online and offline activities, how to deal with being interrupted while you're online and moving on to the next activity, how to use online sources responsibility- which information can you trust-not trust, reliability
I thought you covered it all nicely.
Staying away from strangers online.
Open Response 2: Comments or suggestions for future Digital Citizenship/White Ribbon Weeks?
I like having it in the spring. Also last year we talked about spreading Digital Citizenship lessons throughout the year so that it wasn't just covered one week but over the year.
Great job, well executed.  We appreciate your efforts!  
I think the theme days go well with White Ribbon Week. 
When Covid is under control, it would be lovely to have other voices in the classroom to reinforce the concepts. 
thank you for all that you do PTA
the sunglasses were tough, but I bought the class cheap ones at zurchers. Maybe we can buy them in bulk for next year, most of my kids did not have sunglasses. 
Thanks for all that you have done!!
I really enjoyed the lessons this year.  They were relevant and taught kids the skills necessary to being a good digital citizen at school and at home.  
I loved this year.  Way to go.
Keep it the same as this year.
Keep it how it was this year.
It was simple and clear this year, I liked it
Proposal to provide stipend to Ms. Van Dam for managing our social media accounts (Instagram, Facebook, Twitter and DOJO)

C. Schino motioned and spoke to how some coaches at other schools are taking on the role of social media for their schools

A social media presence is encouraged district wide and so we want to compensate her for her efforts

Proposed to pay $500 out of Cell Tower funds

J. Dyer seconded

Approved unanimously

Discuss adjustments to TSSP budget

C. Schino spoke to an updated TSSP budget reneges on ~$10,000

The reduction came in the behavior category, there will be one less adult as a result

Nothing to approve or vote on, rather it is an informational item

The council voiced their understanding

Discuss Art Team proposal

J. Hale joined to speak to how the BTS (Beverly Taylor Sorensen) Arts program is being implemented

Sprucewood has made great progress in its implementation (its in the "excellent" status on evaluation of BTS implementation)

An art team would consist of Mr. Hale, Principal Schino, an SCC member, and then several teachers from different bands, among others

The team would meet to discuss projects that could be implemented which are relevant to the Sprucewood context and to ensure continuity should different Booster specialists rotate in or out

Hope is to start in the fall!

Discuss upcoming elections 

2 year term of service for each member

A. Holbrook (2/2) not eligible to return

T. Leininger (2/2) not able to return

J. Dyer (1/2)

B. Jensen (1/2)

M. Cupello (1/2)

C. Ely (1/2) 

Need to decide on elections in the spring or fall

C. Ely voiced a recommendation for the fall

C. Schino noted how she has always conducted them in the fall

C. Ely motioned to approve elections in the fall

J. Dyer seconded the motion

Approved unanimously

Adjourn until next month's meeting May 24, 2021

Motion to adjourn by B. Jensen

Seconded by J. Dyer

Meeting adjourned at 4:45